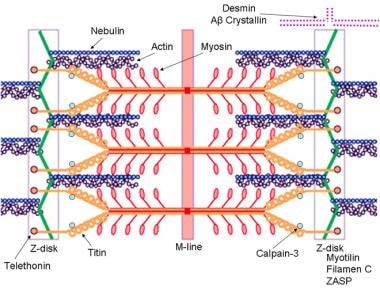 Muscular dystrophy (MD) is a collective group of inherited noninflammatory but progressive muscle disorders without a central or peripheral nerve…
emedicine.medscape.com
---
The U.S. Food and Drug Administration today approved Exondys 51 (eteplirsen) injection, the first drug approved to treat patients with Duchenne muscular dystrophy (DMD). Exondys 51 is specifically indicated for patients who have a confirmed mutation of the dystrophin gene amenable to exon 51 skippin…
fda.gov
---
US regulators have issued a green light for Marathon Pharmaceuticals' Emflaza to treat patients age five years and older with Duchenne muscular dystrophy (DMD), a rare genetic disorder affecting around 15,000 people in the country that causes…
pharmatimes.com
Why and how does a corticosteroid, Emflaza (deflazacort), work in a supposedly degenerative condition like Duchenne Muscular Dystrophy?
Apparently, the dying muscle cells will activate cytotoxic T-cells, causing more accelerated inflammatory damage. For this reason, other immunosuppressants like Azathioprine and Cyclosporin are also occasionally used.
How is deflazacort different from other corticosteroids?
Apparently, it has less side effects on bone and fat metabolism.
---
Read about a study showing that a combination of two treatments restored muscle function in mice with Duchenne muscular dystrophy.
musculardystrophynews.com
You must be thinking the Combo Therapy referred to here would be Deflazacort (to suppress inflammation and retard muscle damage) and Eteplirsen (to increase dystrophin production and preserve muscle integrity). I think this combo of the 2 recently approved treatments for Duchenne Muscular Dystrophy makes perfect sense too!
But this study in mice examines 2 other chemicals: Osteoprotegerin immunoglobulin fragment complex (OPG-Fc), and a β2-agonist, Formoterol.
---
Read about two non-invasive strategies for measuring muscle function and its properties DMD children.
musculardystrophynews.com