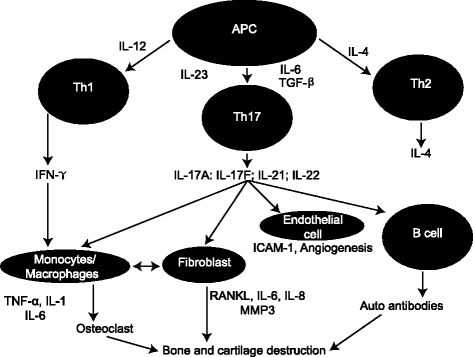 The term spondyloarthritis (SpA) is used to describe a group of inflammatory autoimmune diseases, including ankylosing spondylitis and psoriatic arthritis, with common genetic risk factors and clinical features.…
arthritis-research.biomedcentral.com
---
emjreviews.com
---
Knowledge regarding the mechanisms of the IL17-IL23 pathway and its role in spondyloarthritis has been…
frontiersin.org
Ankylosing Spondylitis pathogenesis, as we currently understand it, is T-helper 17 immune response in overdrive.
This immune axis is tasked with protecting us against extracellular bacteria, rallying neutrophils to meet the task. They patrol the barriers, the vanguard of mucosal immunity. Dysbiosis is therefore a likely trigger of AS inflammation in genetically predisposed individuals.
The other major housekeeping task of Th17 is tissue repair and remodeling. Enthesis and te…ndon overload with damage is the other major trigger of AS. Exuberant tissue overgrowth (skin, bone) is a feature of the Spondyloarthritides (psoriasis, AS).
Clinical medicine makes more sense once we understand the basic science better.